This page shows our concert series for 2022. Details of performers, the musical offerings and program notes can be accessed (as they become available) by clicking on the concert series title.
Of course program changes beyond our control may occur from time to time. Please join our mail or email list to have the current program details sent to you or view this page regularly.
All attendees at Virtuosi Tasmania's concerts are required to comply with current Tasmanian Government Covid regulations.
$30, concession $25 and students $15.
Available at the door, or online via try booking when a button is displayed.
Program Notes
Joseph Haydn
String Quartet No 62, Opus 76, No 3 "Emperor" (1797)
I. Allegro II. Poco adagio; cantabile III. Menuetto. Allegro IV. Finale. Presto
When Haydn toured London in the early 1790's he was especially impressed by the stately sounds of the English anthem, "God Save the King", and decided that Austria, having no anthem, deserved something equally impressive. He subsequently crafted a hymn to the words "Gott erhalte Franz den Kaiser" ( "God save Emperor Franz"), which served as the Austrian anthem for more than a century. The music was then taken for the German national anthem from 1922.
The second, slow movement of this quartet uses the elegant Emperor's hymn as a basis for a set of variations. The first movement is a frolicking Allegro, the third Menuetto allegro, is in dance form, and the final presto is dramatic and sometimes lilting.
Felix Mendelssohn
String Quartet No. 1 in E flat major, opus 12 (1829)
I. Adagio non troppo – Allegro non tardante II. Canzonetta. Allegretto III. Andante espressivo IV. Molto allegro e vivace
1827 was the year of Beethoven's death, and the year his last five string quartets were published. Most of the world were bewildered by Beethoven's last quartet works. One musician said, "we know there is something there, but we do not know what it is." Composer Louis Spohr called them "indecipherable, uncorrected horrors". But 18 year old Felix Mendelssohn was apparently avidly studying these brilliant new works, and their influence can be seen and heard in his first two mature string quartet compositions. Mendelssohn's E flat major quartet, op. 12, was written in 1829, two years after his a minor quartet, op. 13, while he was traveling outside his native Germany on a trip sponsored by his parents, who wanted him to advance his career, expand his social contacts and broaden his education. Mendelssohn often referred to his first visit to Britain at this time as one of the happiest experiences of his life.
The quartet is remarkable for demonstrating an early version of so-called "cyclical form", in which thematic material from one movement reappears in another. The first movement opens with a slow introduction, in which we hear a motive of three short notes leading to a longer note. This pattern will reappear in the fourth movement, and the main theme of the third movement is also related to it. In the second movement, "canzonetta" was originally a 16th century term meaning a short vocal piece, similar to a madrigal; in the 19th century, it was used for an instrumental piece of song-like character. Here it is a charming movement with a folksong-like melody with pizzicato and staccato bowing accompaniment. The third movement is surprisingly short. Its eloquent theme, related to the slow motive from the first movement is interrupted by dramatic passages for the first violin marked con fuoco (with fire). The fourth movement follows without a break, starting with two massive chords played by all four instruments. The main body of the movement is in the minor mood and in the spirit of an Italian tarantella. Later you hear the motive from the opening of the first movement restated as a march, and the final 55 bars of this movement are an almost exact repetition of the coda from the first movement.
Cello–Piano Duo
Virtuosi Tasmania is thrilled to announce the return of the stunning duo of Jonathan Békés (cello) and Ying Ho (piano). They will perform the highly expressive Cello Sonata in C by Benjamin Britten, written for the great Mstislav Rostropovich in 1961; and the "Cello" Sonata by César Franck. Originally the Violin Sonata in A major, and arguably Franck's best-known composition, the setting for cello and piano created by Franck's friend and colleague, Jules Delsart was the only alternative version sanctioned by Franck.
Pictured (L-R): Jonathan Békés and Ying Ho.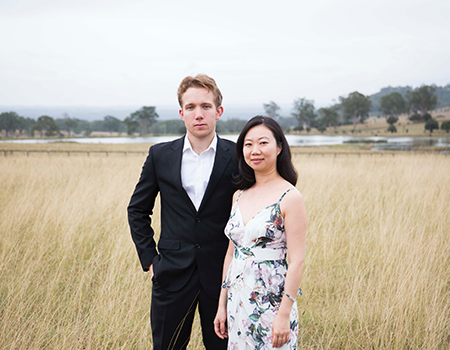 Program Notes
BENJAMIN BRITTEN (1913-1976)
Sonata for Cello and Piano in C major Opus 65 (1960-61)
1. Dialogo. Allegro 2. Scherzo-Pizzicato. Allegretto 3. Elegia. Lento 4. Marcia. Energico 5. Moto perpetuo. Presto
Britten first met Russian cellist Mstislav Rostropovich in 1960, and agreed to Rostropovich's request for a new sonata, which he completed in January of the following year and sent to Rostropovich, confessing "I may have made some mistakes" and quips that "the pizzicato movement will amuse you; I hope it is possible!" The two agreed to meet for the Sonata's first rehearsal on the cellist's next trip to London two months later. By Rostropovich's account, both musicians were so nervous that they began the session with "four or five very large whiskies." With Britten at the piano, the Sonata received its première at the Aldeburgh Festival on July 7, 1961.
The title of the first movement "dialogo" indicates a conversational nature, which extends to a turbulent ride, with the instruments at each turn complementing each other, taxing their abilities with bursts of lyrical intensity, mischievous asides, whispers and technical wizardry. The Scherzo-Pizzicato demonstrates the most virtuosic use of this technique in the entire cello literature. Pizzicati are played by both the right and left hand, often in rapid alternation; full chords are strummed across all four strings; and Britten also calls for the cellist to hammer notes out directly on the fingerboard. The Elegia sets a mournful melody in the cello against morose, atmospheric chords in the piano. An energetic but menacing Marcia follows, evoking the sounds of a full marching band, that seems to pass before the listener's eyes and ears, eventually dying away in the cello's high harmonics. And in the helter-skelter finale, the pianist has to be right on top of their game as the piece careers along like a runaway train, flying past all kinds of musical scenery until it crashes in to the C major buffers at the end.
CÉSAR FRANCK (1822-1890)
Violin Sonata in A major, arranged for cello and piano by Jules Delsart
1. Allegro moderato 2. Allegro 3. Recitativo – Fantasia 4. Allegro poco mosso
César-Auguste-Jean-Guillaume-Hubert Franck, was forced for much of his life to earn his living as professor of organ at the Paris Conservatoire, and a private piano and composition teacher during the week, and as a church organist at St Clothilde on week-ends. Most of his compositions did not appear until his later years: the Violin Sonata was written in 1886 when Franck was 63, as a wedding present for the 31-year- old Belgian virtuoso violinist and composer Eugène Ysaÿe.
This sonata remains one of the composer's most popular works, and demonstrates his spontaneous, exuberant romanticism. It is also notable for the difficulty of its piano part: Franck himself had huge hands, and the piece includes frequent extreme extensions and virtuosic runs and leaps, particularly in the restless excitement and intense passion of the second movement. The first movement is serene, lyrical, yearning. The third movement is improvisatory, featuring cadenza-like passages for the cello and the finale is charming and joyful. Here we hear canonic imitation, where one voice follows the other, creating a graceful dialogue between the two instruments, which we hear several times throughout the movement, before it comes to a triumphant conclusion.