This page shows our concert series for 2019. Details of performers, the musical offerings and program notes can be accessed (as they become available) by clicking on the concert series title.
Of course program changes beyond our control may occur from time to time. Please join our mail or email list to have the current program details sent to you or view this page regularly.
$30, concession $25 and students $15.
Available at the door (cash only), or online via EventBookings until 1 day prior (while a button is displayed)..
* If you plan to stay and enjoy a meal please contact the venue direct:
Riversdale Estate 6248 5555
Home Hill Winery 6242 1897
** Tickets $30 (no concessions). For bookings please contact:
David McEwan on 6391 2002 or 0417 976 235, or
Val Murfett on 6397 8366
Brahm's Clarinet Trio
Virtuosi Tasmania performers Andrew Seymour (clarinet), Jonathan Békés (cello) and Meriel Owen (piano) will present three works for this trio combination.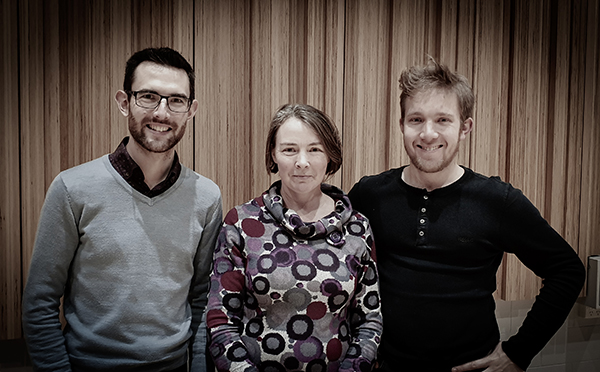 The players (L-R): Andrew Seymour clarinet, Meriel Owen piano and Jonathan Békés cello.
Program Notes
Nino Rota
Trio for clarinet, cello and piano (1973)
The Italian pianist, composer and academic Nino Rota (1911-1979), is among the most prolific composers of the Twentieth Century. Although he is best known for his numerous film scores such as the Oscar Awarded original music for Francis Ford Coppola's Godfather, Rota is nevertheless a noteworthy composer in the mainstream classical genera.
Rota's repertoire includes orchestral, chamber, choral music and operas. Composed six years before Rota's death, this work has elements resembling his film scores mixed with a style reminiscent of Prokofiev and Poulenc and even Wagner.
Arvo Pärt
Mozart-Adagio (1992, 2017)
Estonian born and educated Avro Pärt is a minimalist composer of classical and religious music and the inventor of Tintinnabuli composition technique which he defines as the mathematical unity of melody and accompaniment into one integral unit. He describes his style of composition in these words: "I could compare my music to white light which contains all colours. Only a prism can divide the colours and make them appear; this prism could be the spirit of the listener."
In memory of Oleg Kagan, a leading Russian violinist and close friend, Pärt applies his Tintinnabuli technique to transforms the original Adagio from Mozart's Sonata in F Major K. 280 into a respectful lament for a lost comrade. The work was commissioned by Helsinki Festival where it was premiered.
Paquito D'Rivera
Ladies in White for clarinet, cello and piano (2010)
Cuban born Paquito D'Rivera is the winner of fourteen GRAMMY awards and renowned as a Latin jazz musician and classical composer. He studied in Havana Conservatory of Music and at the age of 17 joined the Cuban National Symphony Orchestra playing both saxophone and clarinet.
When the Cuban government arrested 75 journalists in March 2003 and sentenced them to prison terms of 2 to 28 years, the wives and sisters of the prisoners formed Las Damas de Blanco, or Ladies in White movement. They regularly march in the streets of the city in protest wearing white close and carrying gladiolus flowers in defiance of the authorities.
This composition was commissioned by the City University of New York, and premiered at the same spot by the author on clarinet, Alex Brown on piano and cellist Dana Leong in May of 2010. It is a tribute to those brave women and their families.
Johannes Brahms
Trio for clarinet, cello and piano in A minor Op 114
In 1880 Johannes Brahms announced his retirement as a composer and that he did not intend to compose any further works. In March 1881 he was attending a concert when he felt deeply touched by the extraordinarily beautiful playing by the famous clarinettist Richard Mühlfeld.
This event enticed Brahms to return to composition and this trio was the result. Brahms himself played the piano part at the first performance. The work is written for A clarinet and uses the full range of the sound possible on this instrument. Due to similarity in tonal range, in some performances the Clarinet is substituted by Viola.
Schubert Quintet with Sue-Ellen Paulson
The Virtuosi performers for this concert include Sue-Ellen Paulsen, who has been principal cello of the Tasmanian Symphony Orchestra for over thirty years and will be retiring at the end of this year. Playing with her are Jennifer Owen and Ambra Nesa (violin) Douglas Coghill (viola) and Jonathan Békés (cello).
Musicians (L-R): Jennifer Owen violin, Douglas Coghill viola, Sue-Ellen Paulsen cello, Ambra Nesa violin and Jonathan Békés cello.
Program
Anton Arensky
Variations on a theme by Tchaikovsky from Quartet in a minor, Op 35 for violin, viola and two cellos
This is the second movement of the Arensky String Quartet No 2 Op 35. Anton Arensky composed this quartet in 1895 and dedicated it to the memory of Tchaikovsky, who was his friend and mentor. The second movement consists of seven variations on a theme of Tchaikovsky
Franz Schubert
String Quintet in C Major (D. 956, Op posth 163) for two violins, viola and two cellos
Schubert's String Quintet in C Major was composed in 1828 and was completed just two months before his tragically early death at the age of 31 It is scored for two violins, viola and two cellos and is regarded as Schubert's finest chamber work as well as one of the greatest compositions in all chamber music. It is not surprising that this work has become one of the most greatly loved of the genre. The second cello adds to the overall richness of the piece, contributing to a darker sound. The quintet (and especially the wonderful Adagio movement) has been praised as "sublime" or "extraordinary" and as possessing "bottomless pathos."