This page shows our concert series for 2019. Details of performers, the musical offerings and program notes can be accessed (as they become available) by clicking on the concert series title.
Of course program changes beyond our control may occur from time to time. Please join our mail or email list to have the current program details sent to you or view this page regularly.
$30, concession $25 and students $15.
Available at the door (cash only), or online via EventBookings until 1 day prior (while a button is displayed)..
* If you plan to stay and enjoy a meal please contact the venue direct:
Riversdale Estate 6248 5555
Home Hill Winery 6242 1897
** Tickets $30 (no concessions). For bookings please contact:
David McEwan on 6391 2002 or 0417 976 235, or
Val Murfett on 6397 8366
Convict Monologues
Virtuosi Tasmania's August concert will feature Chris Williams' adaption of Convict Monologues written for cor anglais two violins, viola and cello. The ensemble will also play pieces by Suk, Biber and Bliss featuring the cor anglais and oboe played by Dinah Woods and David Harvey.
Pictured (L-R): Dinah Woods cor anglais, Jennifer Owen violin, William Newbery viola, Frances Davies violin, Martin Penicka cello and David Harvey cor anglais.
Program Notes
Chris Williams
Convict Monologues
Convict Monologues is the result of a ten-month collaborative project in 2017 between Risdon Prison Creative Learning Program and the Tasmanian Symphony Orchestra Outreach Program. Led by volunteer creative writing tutor, the Tasmanian author and playwright Paul McIntyre, inmates researched, wrote and performed a series of monologues based on the life and times of convicts who overcame the odds and forged a successful life in Tasmania post transportation.
TSO Australian Composers' School alumnus Chris Williams was invited to write incidental music for the production and in July 2017, Chris travelled to Tasmania to join inmates for a detailed briefing and production planning meeting at Risdon Prison. The result was a hauntingly beautiful score that offered the audience moments of reflection between monologues and as well as acting as a vehicle to transition listeners into a different scene.
Since the initial production, Chris Williams has adapted the music from Convict Monologues several times, creating concert works for a variety of different sized ensembles as well as a suite for the original instrumentation of cor anglais, three violins, viola and cello.
Josef Suk (1874-1935)
A Summer's Tale, Op 29
3rd movement, Intermezzo "Blind Musicians", arranged for two Cor anglais and strings
The Czech violinist and composer Josef Suk (1874-1935) was a student and son-in-law of Antonin Dvorak. The death of Dvorak was closely followed by the death of his daughter (Suk's wife) leaving deep scars in the composer's psyche. The concept of mortality exerts a strong influence on Suk's music. He even wrote his own funeral march.
A Summer's tale is in five movements in the form of Symphonic Poem (also known as Tone Poem). This orchestral form became popular in the 19th century, and its goal is to express the content of non-musical forms of art such as poems or paintings through the medium of sound.
Heinrich Ignacio Franz von Biber (1644-1704)
Sonata per due Corni Inglese
Often referred to as the best violin composer of the 17th century, the Bohemian-born Biber lived most of his life in Salzburg. His music was well known by his contemporaries throughout Europe. His extensive use of multiple stops to create complex polyphonic passages on the violin is no doubt the forerunner of such technique later perfected in J S Bach's celebrated sonatas and partitas for unaccompanied violin. The orchestral sonata for two English Horns was probably first written for two Bass Oboes (in C) and later arranged for English Horns accompanied by strings and organ. This pleasing work showcases the warm sonority of the English Horn within the context of Baroque music.
Arthur Bliss (1891-1975)
Quintet for Oboe and string quartet
The three parts are marked: 1. Assai sostenuto – Moderato (in the form of a pastoral); 2. Andante con moto; 3. Vivace (in the form of dance)
Sir Arthur Edward Drummond Bliss started his musical career as an unconventional modernist English composer of the early 20th century but soon returned to the more traditional and romantic style of the late 19th century. He served with distinction in the first world war and as the music director of the BBC during the second world war. Ha was appointed as the Master of Queens's Music after his tenure at the BBC. The oboe quintet premiered in 1927 during a festival in Venice. The colourful sonority of the oboe is fully exploited in this sparkling and melodious work.
Death and the Maiden
Schubert's Death and the Maiden string quartet and other pieces brought to you by Yue-Hong Cha (violin), Frances Davies (violin), Martin Penicka (cello) and William Newberry (viola).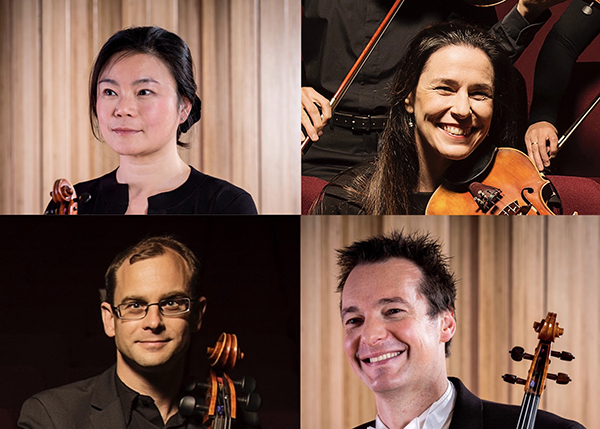 Pictured (clockwise from top left): Yue-Hong Cha violin, Frances Davies violin, William Newbery viola and Martin Penicka cello.
Brahm's Clarinet Trio
Details will be provided as they come to hand. See below for the program.
Program
Arvo Pärt
Mozart-Adagio for clarinet, cello and piano
Paquito D'Rivera
Ladies in White for clarinet, cello and piano
Johannes Brahms
Trio in A minor, Op 114 for clarinet, cello and piano