Celebrating 25 years - a brief history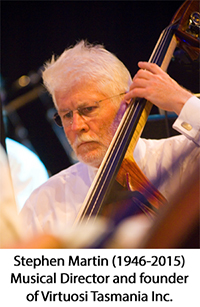 V irtuosi Tasmania has been bringing chamber music to regional Tasmania for twenty five years. The late, and much loved, Stephen (Steve) Martin had the vision of musicians from the Tasmanian Symphony Orchestra (TSO) along with the best of local musicians, playing chamber music in regional Tasmania. Steve had been a player with the TSO since 1977. He gathered together a group of like minded friends and on 24 April 1992 Virtuosi was born. In June 1993 Virtuosi was listed in the Register of Cultural Organisations. In 1994 Virtuosi commissioned well known Tasmanian composer Don Kay to write music for a string quartet, his piece "Moonlight Ridge" was performed in 1996, was broadcast live by ABC FM and was also performed at the Tasmanian Conservatorium of Music.
The Virtuosi logo was designed by Tom Samek, a local artist and friend of Virtuosi.
Steve's vision was to present fine chamber music of diverse style and instrumentation by gathering together a variety of ensembles to perform under the Virtuosi banner in exotic and unusual locations around Tasmania. Virtuosi is not an ensemble of regular players but rather an entrepreneurial organisation facilitating a number of ensembles of professional musicians. It always has, and still is, run entirely by volunteers who share Steve's dream and vision. The music played is a collaboration between the players presenting the music they wish to play without the restrictions of a large orchestra.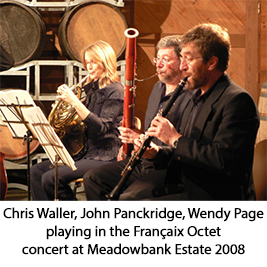 The first series of concerts, labelled Heritage Series I, II and III, were played at various historic homes including Redlands House, Mountford House Ballroom and Hawley House, all performances were sold out.
The Trout Quintet was performed to a packed audience at Meadowbank vineyard in 2000 and it convinced the Virtuosi committee that performances at vineyards could attract good audience numbers. Accordingly Virtuosi has performed at many vineyards around the State as well as heritage houses and private homes, Hastings caves, apple sheds, old and new churches, art galleries and any venue where an audience could be comfortably accommodated.
In 2008 the first of Virtuosi's biennial chamber music festivals was held in and around venues in the Coal River Valley. Held over the February long weekend and attended by the then Governor, His Excellency Peter Underwood AC, who in 2009 became the Virtuosi Patron. All concerts were a great success and included jazz elements which Steve promoted as "twentieth century chamber music." The second festival in 2010, also held in venues around the Coal River Valley, was again hugely successful attracting much acclaim from delighted audiences.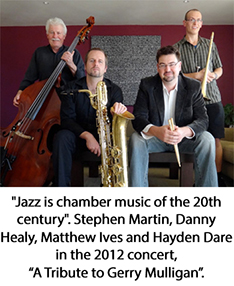 In 2012 the third festival was held at the then recently opened Museum of Old and New Art (MONA). These concerts were held in the Barrel and Organ Rooms at MONA, were recorded by the ABC and were again extremely popular and well attended. Virtuosi continues to perform concerts at MONA.
Typically Virtuosi Tasmania brings together up to eight ensembles, performing around thirty concerts at a variety of venues across the State each year.
Following the untimely death of Steve in 2015 Jennifer Marten-Smith took on the role of Musical Manager for a year. Since then Jennifer Owen (TSO Pricipal First Violin - see above) has been our Musical Driector. With great energy and imagination Jennifer continues to invoke Steve's vision of presenting innovative and beautiful music throughout Tasmania.
Virtuosi has been well served by a large team of volunteers over its 25 years of presenting music throughout Tasmania, is grateful for the enthusiasm of members of the TSO who have been keen to be involved and create wonderful concerts along with local Tasmanian musicians, and a loyal audience of music lovers who have supported Virtuosi in all of its endeavours. We thank them all.