This page shows our concert series for 2019. Details of performers, the musical offerings and program notes can be accessed (as they become available) by clicking on the concert series title.
Of course program changes beyond our control may occur from time to time. Please join our mail or email list to have the current program details sent to you or view this page regularly.
$30, concession $25 and students $15.
Available through the TSO Box Office until 2 days prior or at the door (cash only).
August
Convict Monologues
Venues and times will be posted when finalised

September
String Quartet
Venues and times will be posted when finalised
October - November
Brahms Clarinet Trio
Venues and times will be posted when finalised
* If you plan to stay and enjoy a meal please contact the venue direct:
Riversdale Estate 6248 5555
Home Hill Winery 6242 1897
Mozart, Bartok & Bruch
Featuring Andrew Seymour (clarinet), Stefanie Farrands (viola) and Jennifer Marten-Smith (piano). More details will be posted as they come to hand.
Pictured: Stefanie Farrands viola.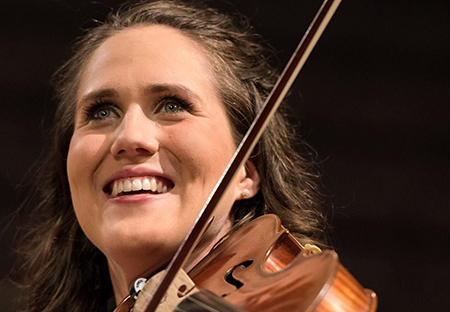 Program Notes
Mozart
Kegelstatt Trio K. 498
1. Andante 2. Menuetto 3. Rondeaux: Allegretto
The German word "Kegelstatt" means "Skittle Alley" and it is suggested that Mozart probably composed this trio while participating in a game of Skittles. However, the depth, density and perfect integration of the instruments in this work contradict the notion of a playful diversion.
Mozart dedicated the work to one of his students who was the daughter of a close friend. The score is dated 5 August 1786, when Mozart was thirty years old. The original manuscript suggests that Mozart composed the piece for the unusual combination of Harpsichord (cembalo), Viola and Clarinet but later crossed out the word Harpsichord and instead wrote Piano Forte on the first page of the score. Curiously he forgot to change the word Harpsichord at the beginning of the second and third movements!
Bartok
Selection of Duos Sz. 98 (32, 35, 44)
32 Dance from Maramaros, 35 Ruthenian Kolomeika, 44 Transylvanian Dance
Bela Bartok was first and foremost a teacher of music with a passion for Eastern European folk songs and dances. In 1909, he published 85 studies for piano titled "For Children". These pieces were all based on Hungarian and Slovakian folk tunes.
In 1931 the German violinist and teacher, Erich Doflein, commissioned Bartok to arrange some of "For Children" pieces for duo violins to be used for pedagogical purposes. Bartok selected 44 of the original works for piano and rearranged them into violin duos.
While these works were not intended as concert pieces, the beauty of these folk tunes and their harmonic and rhythmic freedom have delighted concert audiences since their publications.
Bruch
Op. 83 Eight pieces (SELECTIONS: 1,2,4,5,6,7)
1. Andante, 2. Allegro Con Brio, 4. Allegro Agitato, 5. Romanian Dance, 6. Nachtgesang, 7. Allegro Vivace
Max Bruch, the German romantic composer and conductor, whose long and fruitful life spanned the 19th and 20th centuries, is most famous for his celebrated violin concerto. Nevertheless, he has composed over 200 works. Bruch wrote the eight pieces for clarinet (or violin), viola (or cello) and piano when he was over 70 years old.
The warm and mellow sounds demanded from each instrument reflects the depth of the romanticism of Bruch and demands virtuosity from the players. The atmosphere of the pieces is reminiscent of calm and melancholic autumn days.
All but the seventh piece are in minor keys.
Classical Bassoon
With Simone Walters (classical Bassoon - read her Bio here) and friends in a program including: Devienne - Quartet in C major for Bassoon, Violin, Viola, Cello; Mozart - Quartet for Flute, Violin, Viola, Cello; Reicha - Variations for Bassoon and String Quartet; Beethoven - Trio for Flute, Violin and Bassoon Op. 87.
Pictured: Simone Walters classical Bassoon.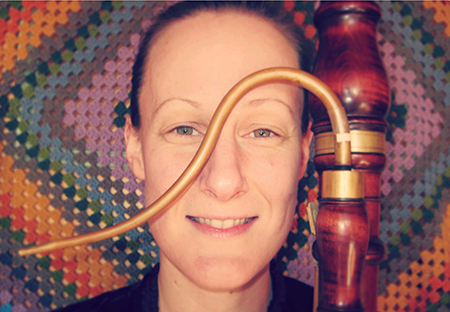 Program Notes
Francois Devienne (1759-1803)
Quartet No 1 in C Major, Op 73, No 1
I. Allegro Spiritoso II. Adagio Cantabile III. Rondo Allegro moderato
A contemporary of Beethoven, Francois Devienne was a celebrated flute and bassoon virtuoso of the seventeenth century. He also composed extensively. His works include more than a dozen operas and several chamber music works.
He wrote many concertos for his own performance, and his works for bassoon and flute are regularly performed by current virtuosi.
His quartet Op 73, No 1 is composed for bassoon, violin, viola and cello in C major in the classical form. However, unlike the normal practice of quartets where instruments play equal roles, the bassoon plays a pivotal and dominant role in this piece while the strings lend their support. The piece is more akin to a concerto for bassoon and string trio than a quartet.
Divertimento in E flat Major, K.563
Allegro II. Adagio V. Menuetto(Allegretto) - Trio I - Trio II VI. Allegro
During the final years of his life, Mozart suffered financial hardship and constantly struggled to attract the attention of the fickle audiences of his time whose taste in music had changed. A fellow Freemason, Michael Puchberg lent Mozart much-needed money, and in return, Mozart composed this divertimento and dedicated it to Puchberg. The work was completed in 1788 only three years before Mozart's death.
The premiere was in Dresden and Mozart played the viola part. This divertimento stands apart from other divertimenti of the composer and many critics consider it "one of a kind". Albert Einstein was particularly fond of this work an called it "one of Mozart's noblest works". Violin, Viola and cello play equal roles in the piece, and every note tells. A true masterpiece where the richness of sound and harmonic balance makes the audience accustomed to the four-part harmony of a quartet ensemble forget about the expected but missing second violin.
Franz Danzi (1756-1826)
Quartet No.2 in d minor, Op 40, No 2
Allegretto II. Andante con moto III. Menuetto Allegretto IV. Allegro
A child prodigy, Franz Danzi secured his first job as a cellist at the famous Mannheim Orchestra at the age of 15 having studied cello, singing and keyboard with his father who was himself a cellist at Mannheim. He later joined the National Theatre orchestra gaining theatrical experience which led to the composition of a comic opera that became an overnight hit and was performed in many theatres. Despite belonging to different generations Danzi and Carl Maria von Weber became close friends and influenced the musical styles of each other.
Danzi was a highly regarded contemporary of Beethoven and produced a large repertoire of chamber and orchestral music mainly in classical style. Alas, Danzi's music is now mostly forgotten. Three quartets for bassoon and string trio Op 40 are among the important works within the comparatively meagre repertoire for bassoon.